An Endless Supply of Hot Water and up to 40% in Energy Savings!
There comes a time when we all have to say goodbye to our old energy-hungry water heaters and replace them with new models that save energy, money and, in some instances, space.
The North American water-heater industry has evolved dramatically over the last several years. What used to be a choice between buying a 40-gallon tank or a 60-gallon tank is now a decision that needs to take energy-efficiency ratings and tank size into consideration. That's where the tankless water heater comes in.
Here at Services Plus he have purchased and tested several makes and models of Tankless water heaters and we have determined Rinnai to be the best brand on the market.  For that reason we recommend, supply, and service Rinnai tankless water heaters, like the one seen on this page.
We also service all tankless makes and models.
The tankless water heater is a huge technological achievement.
These innovative tankless hot water systems not only save valuable space, they also create huge energy savings which translates into more cash in your pocket.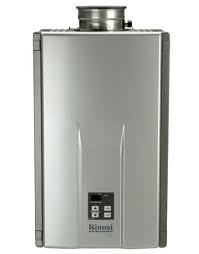 The tankless water heating system can easily last 20 years or more with normal maintenance. That's twice as long as the standard tank heater. Add to that the lifestyle benefits of being able to enjoy endless hot water when you want it and for as long as you need it, while saving money on energy costs.
The tankless water heating system, although more expensive initially, is definitely within the financial reach of most of us and the returns are quite significant.
Give Us a Call For More Info
For more information about tankless hot water heaters give us a call at  705-792-7628 or 705-431-2822.