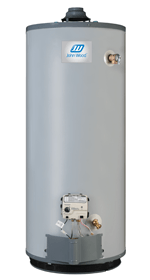 John Wood® offers a complete line of residential atmospheric vent natural gas and propane water heaters that feature technological innovation, design durability and efficiency.
ENERGY STAR® Qualified Models
The John Wood® ENERGY STAR® Qualified Atmospheric Vented Gas Water Heater is ENERGY STAR® qualified and has an impressive .67 energy factor (EF).
With an installed flue damper, higher efficiencies can be achieved therefore saving you money.

Flame Guard® Safety System
John Wood Flame Guard® safety system gas water heaters are Flammable Vapour Ignition Resistant (FVIR) compliant water heaters with proven technology that you can trust.
Standard models feature a Honeywell Vesta gas valve for added protection against down drafts and environmental conditions. See spec sheet for complete details and product features.
WARRANTY
8 Year Limited Tank Warranty
6 Year Limited Parts Warranty
Consult installation manual for terms and conditions.
This Model is Just One of Many!
For more information about the other models of hot water heaters that we supply give us a call at  705-792-7628 or 705-431-2822.